Paul and Kristi Yamilkoski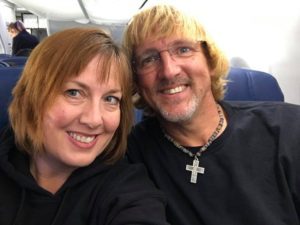 Praise him in the rain! As Noah's parents, we live by Noah's life philosophy to forever praise God even through the rain. For at the end of every storm there is a rainbow reminding us all of God's promises.
We moved to Lakeland, Florida in 2015 after living in the Center Point, Iowa area for almost twenty years.
Paul works with Heartland Credit as a Regional Sales Manager and Kristi works for Lakeland Regional Health Systems as a Director of Information Services.
The focus our life is our faith, family, and friends. Noah was our middle child and only son. We have two daughters, Tori and Tiffany. Tori and her husband, Vince have two adorable children, Noah and Jocelyn. We love taking advantage the beautiful Florida sunshine with visits to the beach and annual Disney passes!
Our Noah was such an amazing young man and we remember his beautiful smile and curly red locks every day. His courage and strength keep us going. Noah's Rainbow was created to let his love and passion for helping other live on.